PUMPKIN PATCH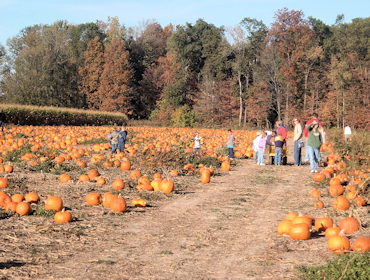 Time for some Family Fun!
Mums are NOW Available!
In the fall we invite everyone to come join us in the pumpkin patch. Visitors can wander through 8 acres along with garden mums and other fall decor along with a variety of pumpkins or gourds.
HOURS:
Weekdays: 1:00-Dark
Weekends 9:00 – Dark
Picked pumpkins are also available for the rainy days.

DATES TO KNOW
The Indiana Pumpkin Patchwill open again for the year!

We will be having our annual Harper Valley Pumpkin Patch Days festival on October 13th and 14th from
11-5. This will have all of our normal activities at the patch along with face painting and food available.
PUMPKIN PATCH
Indiana's Place To Visit
People come from miles around and from surrounding states to visit our Pumpkin Patch. We have a wide selection of affordable pumpkins for sale!
Photos From The Pumpkin Patch